The Maine Tree Farm Program recognizes the superior stewardship of its members through the annual Outstanding Tree Farmer of the Year recognition program. These landowners are recognized for their remarkable efforts to enhance and sustain their forests and for spreading the practice of sustainable forestry. State winners are eligible to compete for the Regional and National Outstanding Tree Farmer of the Year awards.
2020: Drs. Bob Seymour & Jessica Leahy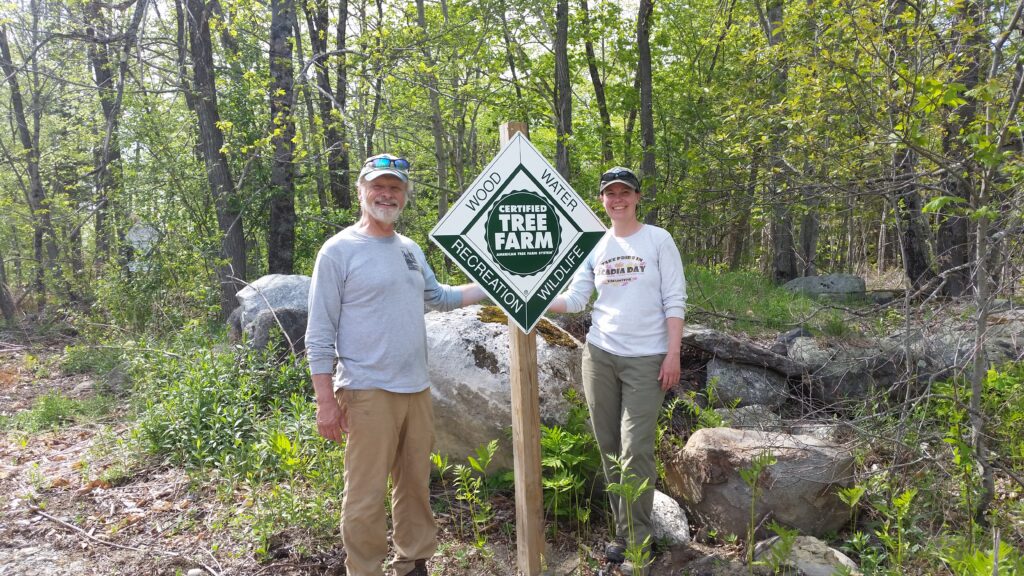 Wicopy Woods Tree Farm, Sebec, ME
Drs. Bob Seymour and Jessica Leahy, owners of Wicopy Woods in Sebec, are the 2020 Maine Outstanding Tree Farmers. The Professor Emeritus and Professor, respectively, at the University of Maine School of Forest Resources steward the exemplary 130-acre woodlot that promotes the growth of merchantable timber products, and multiple-use philosophy.
Seymour and Leahy, a husband and wife duo, purchased the property from Ron Locke in 2015. Locke, a forester himself, purchased the property in 1968 as a "run-down farm and "woodlot" and then began compiling seven journal volumes worth of data and details. This year marks the 50th anniversary of its Certified Tree Farm status, winning the Outstanding Tree Farm award in 1984. During Locke's tenure as owner, Wicopy Woods became one of the Forest Steward Guild's first Model Forests, one of only 25 in the United States.
2019: Don Newell & Family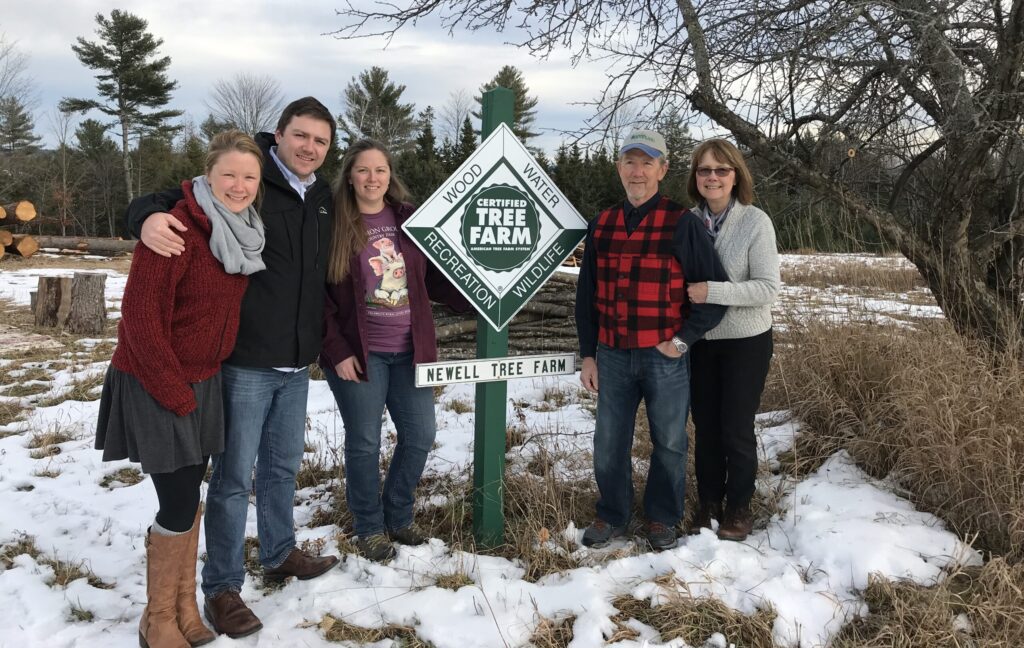 Newell Tree Farm, Unity/Thorndike, ME
Don has been a Tree Farmer since 1986, when he bought the first parcel of the now 250-acre forest, adding to it as adjoining parcels became available. He does most of the woods work himself, along with help from family members. Nearly every morning, before going to his day job as a realtor specializing in farms and woodlands, he is in the woods improving his road and trail system or harvesting products for local wood markets. His management practices include thinning sapling stands and creating small patch clear-cuts to promote habitat for birds and other wildlife.

The Newell Tree Farm is open to the public, for hiking, mountain biking, cross-country skiing and snowmobiling on designated groomed trails. Hunting is allowed by permission only. Don has hosted numerous events and tours, including visiting forestry professors from Sweden and UMO; Unity College students' forestry projects; SAF and Maine Woodland Owner beech management workshops; and the annual MOFGA Low Impact Forestry 101 session, now for several years running. Don is very active and engaged in woodland stewardship and education, and a strong advocate for sound forest management. He is a member of the Maine Tree Farm Committee and the Maine Woodland Owners.
2018: Russell Black & Family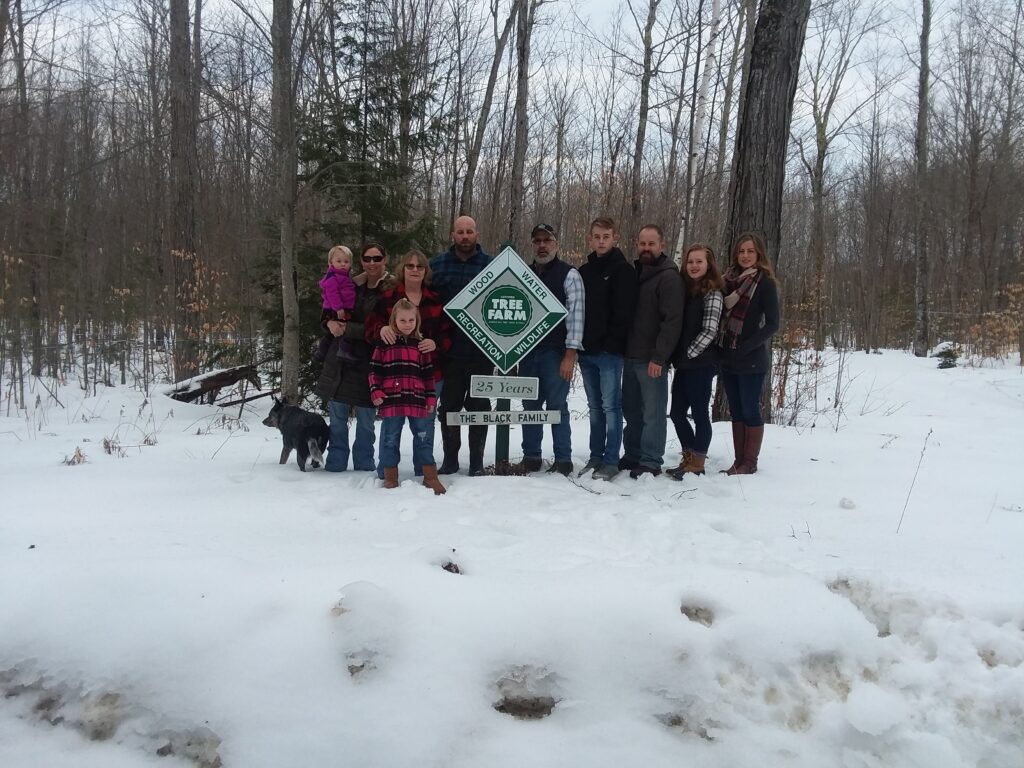 The Black Family Tree Farm, Wilton, ME
The Black Family Forest, which encompasses over 400 acres in Wilton, displays exemplary forest management and land stewardship. Russell has been working on his farm since he was 10 years old and took responsibility of woodlot management in his early twenties. Much of the active management has been done by the Tree Farmers themselves, striking a balance of economics, ecology, and community involvement. Russell has hosted Maine Woodland Owner and Maine Maple Syrup Producer tours of his property. He has won several awards including the Franklin County Soil and Water Conservation District's "Outstanding Woodlot and Logger" award in 1997, Conservation Farm of Franklin County award in 1976, 2007, and 2015, and the "Cooperator of the Year" award from the Natural Resources Conservation Service in 1996 and 2007. He was also a runner up for Tree Farmer of the Year in 1976. Russell is also a state representative, where he serves on the Agriculture, Conservation and Forestry Committee.
You can learn more about Black Acres Farm here
2017: Pam & Bryan Wells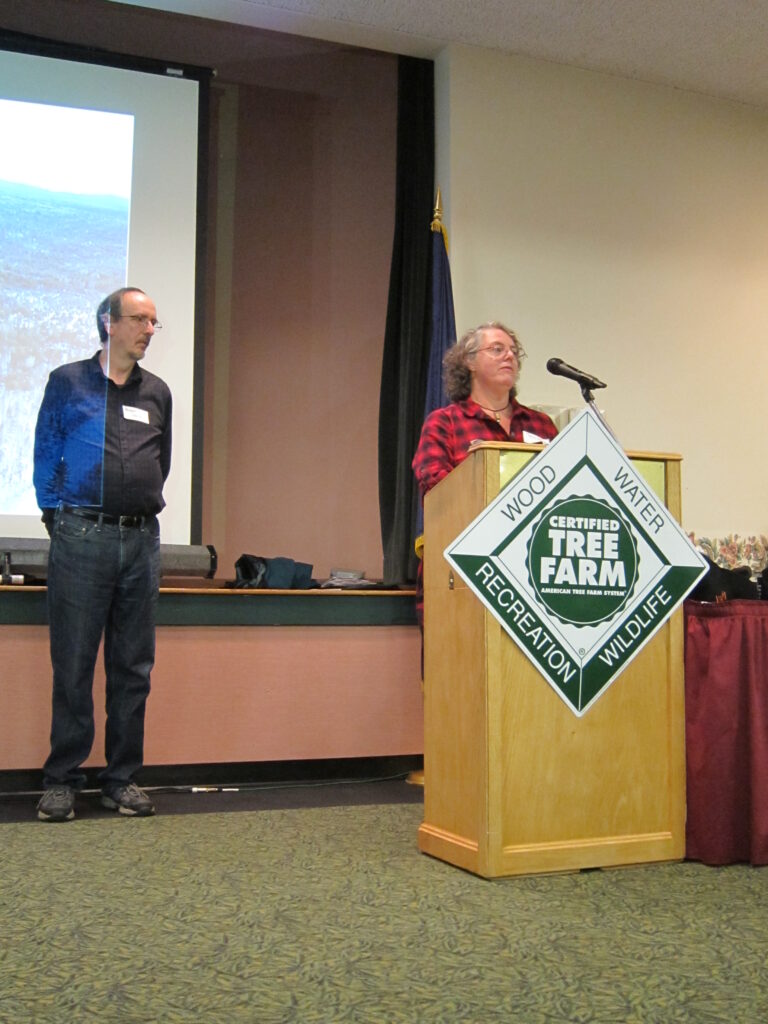 Wells Demonstration Forest, Milford, ME
The Wells Demonstration Forest, located in the Milford/Greenfield area, Penobscot County, Maine is owned by Pamela and Bryan Wells of Old Town, Maine. The ~1000 acre woodlot provides habitat for a variety of Maine wildlife species, migratory birds, and plants. Pam and Bryan obtained the property in 2004 after seeing the Sunkhaze Stream which courses through the center of the property. At that time, the property had recently been harvested by a timber liquidator. While there were some stands that had not been harvested, the majority of the trees had been cut in strips leaving slash in wide skidder trails: a common Maine forest story.
The Wells have determined that the purpose of their forest is complex. With the assistance of their forester, Kirby Ellis, they have created a management plan which includes managing stands for future timber harvest, designated areas for wildlife habitat, opportunities for forest industry research, and a place for small woodlot owners to learn more about how to manage their forests. Other longer-term goals include carbon sequestration and resistance to sprawl.
To learn more check out wellsforest.com
2016: Pine Tree Society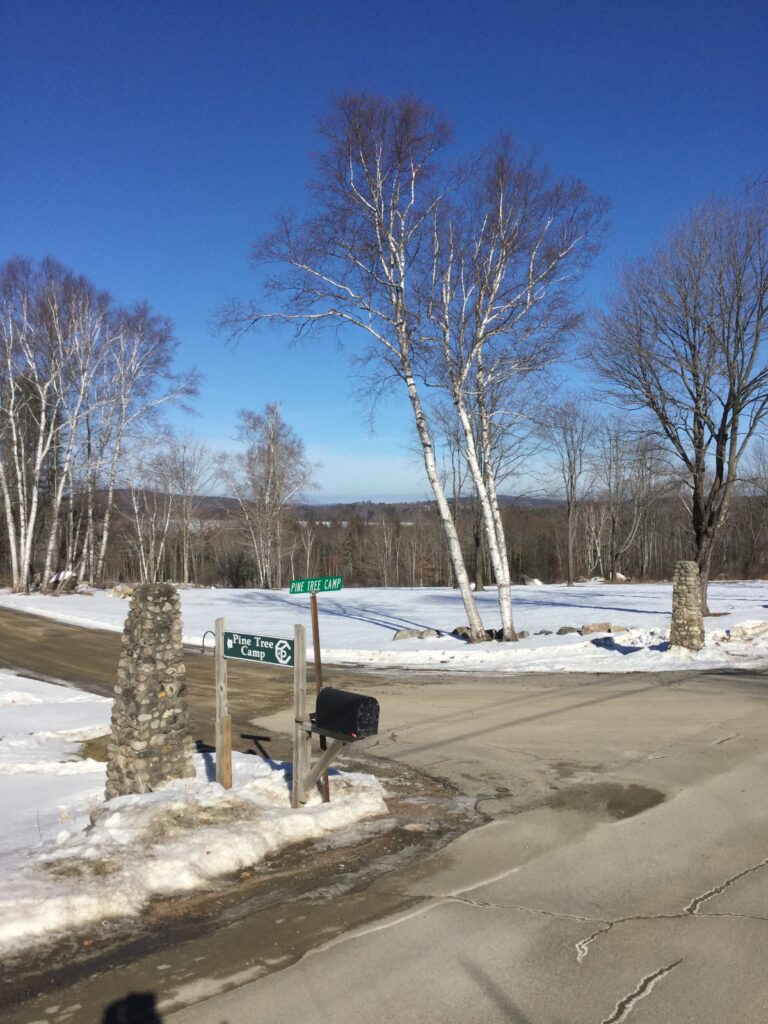 Pine Tree Camp, Rome, ME
Located in Rome on a mile of pristine North Pond shorefront and bordered by over a mile of Great Meadow Stream, Pine Tree Camp is where people with disabilities have come to enjoy being in the Maine woods since 1945. The 285-acre facility is fully adapted to meet the special needs of campers. The barrier-free setting allows them to do things they otherwise wouldn't be able to experience, like hiking on accessible nature trails, going swimming, fishing, sleeping overnight in a tent, and climbing up into a fully accessible treehouse – all designed for people who use wheelchairs and other mobility devices.
"Pine Tree Camp gives people with disabilities a unique opportunity to experience the outdoors in a way that typically is not easily accessible to them," said Noel Sullivan, president, and CEO of Pine Tree Society. "We recognize that our beautiful, barrier-free campus is an incredible asset to our organization, and we work hard to ensure that we are managing it properly."
To learn more about the Pine Tree Society go to www.pinetreesociety.org
2015: Wayne & Peggy Coleman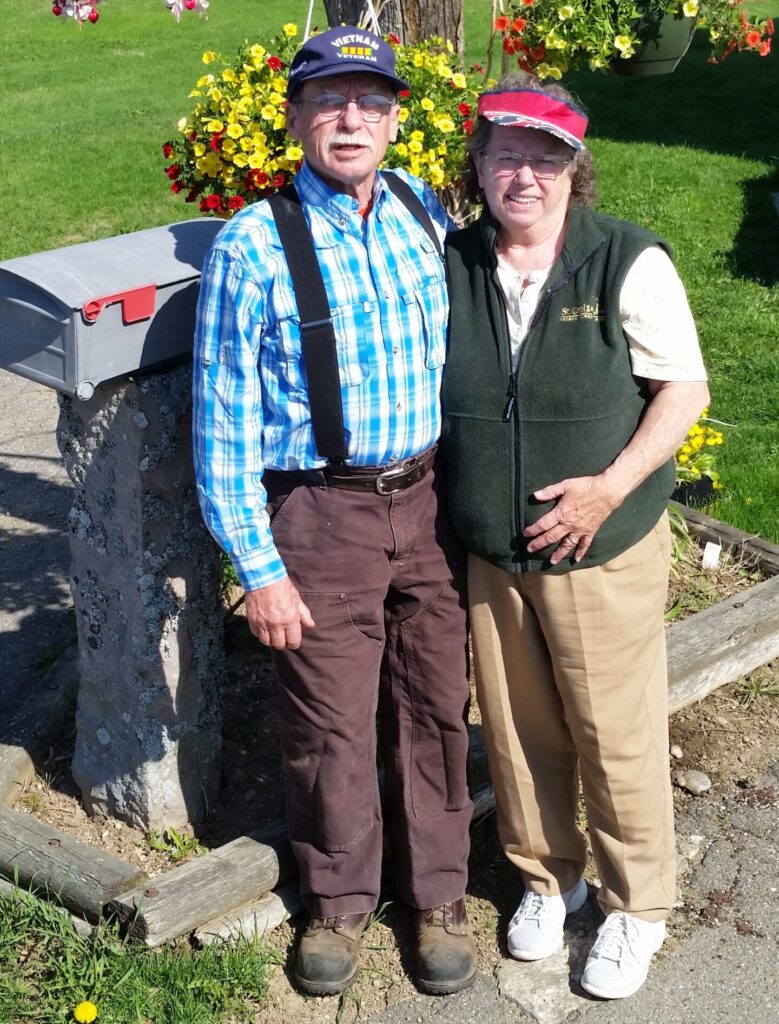 Coleman Tree Farm, Baileyville, ME
Wayne and Peggy Coleman have been selected as the 2015 Maine Outstanding Tree Farmer of the Year. The Colemans manage their 95 forested acres in Baileyville for firewood, commercial forest products, recreation, wildlife, and as a legacy for their children and grandchildren. Many forestry education events have been held on their woodlot through the years. They are long time SWOAM and Tree Farm members. Working along with their forester, Kyle Burdick, the Colemans are true woodland stewards.
Complete OTFY History
| Year | Tree Farmer | Town | County |
| --- | --- | --- | --- |
| 2020 | Drs. Bob Seymour & Jessica Leahy | Sebec | Piscataquis |
| 2019 | Don Newell & Family | Thondike | Kennebec |
| 2018 | Russell Black & Family | Wilton | Franklin |
| 2017 | Pam & Brian Wells | Old Town | Penobscot |
| 2016 | Pine Tree Society | Rome | Kennebec |
| 2015 | Wayne & Peggy Coleman | Baileyville | Washington |
| 2014 | Hidden Valley Farm & Hidden Valley Nature Center | Jefferson | Lincoln |
| 2013 | Abbott & Miriam Ladd | Belgrade | Kennebec |
| 2012 | Ernest & Alberta Angevine | Bethel | Oxford |
| 2011 | Allen Higgins & Paula Hersom | Brunswick | Cumberland |
| 2010 | Andrew Abello & Amanda Russell | Edgecomb | Lincoln |
| 2009 | John & Marie Dudley | Alexander | Washington |
| 2008 | Laurence & Edith Park | Presque Isle | Aroostook |
| 2007 | Josiah & Kathleen Pierce | Baldwin | Cumberland |
| 2006 | Malcom & Dorothy Coulter | Eddington | Penobscot |
| 2005 | Len & Nancy Price | Newburgh | Penobscot |
| 2004 | Willard Walker | Canaan | Somerset |
| 2003 | Clark A. Granger | China | Kennebec |
| 2002 | Arlan & Eleanor Jodrey | Bethel | Oxford |
| 2001 | Jacques Weinstein | Garland | Penobscot |
| 2000 | Bell Family - Tide Mill Farms | Edmunds | Washington |
| 1999 | Reverand Gerald Weary | Newcastle | Lincoln |
| 1998 | Jim & Sandra Pottle | Perry | Washington |
| 1997 | China Schools | China | Kennebec |
| 1996 | Carleton Jones | Vassalboro | Kennebec |
| 1995 | Steve & Diana Hobart | Blanchard | Piscataquis |
| 1994 | William Weston & Family | Rumford Center | Oxford |
| 1993 | Chandler Brothers | New Gloucester | Cumberland |
| 1992 | Dr. Frank Gilley | East Holden | Penobscot |
| 1991 | Donald & Pam Smiley | Farmington | Franklin |
| 1990 | Leroy Souther & Sons | Livermore Falls | Androscoggin |
| 1989 | Joe Barth Family | Alna | Lincoln |
| 1988 | Dennis & Douglas Smith | Dover-Foxcroft | Piscataquis |
| 1987 | Wallace Fengler | Scarborough | Cumberland |
| 1986 | Urban C. Bartlett | Bethel | Oxford |
| 1985 | Martin & Sally Morse | Wells | York |
| 1984 | Ronald Locke | Dover-Foxcroft | Piscataquis |
| 1983 | Dr. Frank Gilley | East Holden | Penobscot |
| 1982 | Norman Labbe | Ashland | Aroostook |
| 1981 | Charles C. Bassett | Arundel | York |
| 1980 | Reverand Gerald Weary | Newcastle | Lincoln |
| 1979 | General Clayton O. Totman | Waldorboro | Lincoln |
| 1978 | Edward Freeman | Damariscotta | Lincoln |
| 1977 | Portland Water District | Portland | Cumberland |
| 1976 | Duncan Howlett | Center Lovell | Oxford |
| 1975 | P.H. Chardbourne & Co. | Bethel | Oxford |
| 1974 | James Pottle | Perry | Washington |
| 1973 | Wallace Fengler | Scarborough | Cumberland |
| 1972 | Raymond Wing | Newport | Penobscot |
| 1971 | Dr. Frank Gilley | East Holden | Penobscot |
| 1970 | Myles E. Smith & Sons | Dover-Foxcroft | Piscataquis |
| 1969 | Eddie Jalbert | Fort Kent | Aroostook |
| 1968 | Julian C. Howard | Kennebunkport | York |
| 1967 | James R. LaCasce | Dover-Foxcroft | Piscataquis |
| 1966 | Marlin Thurston & Sons | West Peru | Oxford |
| 1965 | Donald E. Fitzpatrick | Danforth | Washington |
| 1964 | Melvin Ames | Arkinson | Piscataquis |
| 1963 | Leroy Souther & Sons | Livermore Falls | Androscoggin |
| 1962 | Urban C. Bartlett | Bethel | Oxford |
| 1961 | Arthur Jeane & Sons | Windsor | Kennebec |
| 1960 | Arthur W. Frecker, Jr. | Farmington | Franklin |
| 1959 | Harland Moulton | Shapleigh | York |
| 1958 | Joe Boivin & We Scrone | Rumford | Oxford |
| 1957 | Melvin Ames | Atkinson | Piscataquis |
| 1956 | Anthony Mendes | Dixfield | Oxford |
| 1955 | Norman Hamlin | Oxford | Oxford |
| 1954 | W. Lawson Dauphinee | Guilford | Piscataquis |